So you're thinking about having liposuction. An exciting choice! But no two liposuction surgeons are exactly the same–and to get the results you want, you're going to need a surgeon you can trust. Here's how to start finding the right surgeon for you.
Step One: Set your standards.
Start by building a mental "database" of qualities your ideal plastic surgeon will have. Some important points to consider include:
What training does the surgeon have in performing liposuction, preventing complications during liposuction, and handling surgical emergencies? How long has the surgeon been practicing? How many procedures has the surgeon done?
Aesthetic Style. Do the surgeon's past results look like the kind of results you'd like to achieve? How happy are past liposuction patients with their results?
How is the procedure performed? What safety procedures are in place? What does the surgeon use as the "safe limit" of liposuction that can be performed on a patient in any one procedure? Are there any negative reports with state licensing boards?
Board certification in a surgical specialty indicates the physician was required to pass stringent tests regarding both knowledge of the procedure and of sterile surgical techniques.
Step Two: Find prospective surgeons.
Once you know what you're looking for in a surgeon, it's time to find out who is available in your area. The American Academy of Cosmetic Surgery (AACS) provides a database of its member surgeons, which users can search by location, doctor's name or procedure. The database is available at http://cosmeticsurgery.site-ym.com/search/custom.asp?id=2434.
In addition to AACS, consider asking for references from people you know who have had cosmetic surgeries in the past.
Step Three: Narrow down your list.
Making a list of available liposuction surgeons is the first step. The next step is to narrow down your list to the surgeons you want to talk to in person. Contact each surgeon's practice and ask:
Is the doctor board-certified? If so, which specialty board(s)?
Did the doctor serve a fellowship in cosmetic surgery?
Does the practice do cosmetic surgery only?
Does the surgeon have extensive experience in liposuction?
If the practice can answer "yes" to all these questions, consider making an appointment. If not, move them to the bottom of your list.
Remember to ask these questions, whether you're speaking with a recommended surgeon, or someone you discovered by any other means.
But these questions are just the start: We'll have more on the selection process in our next post.
For a free, private consultation about your liposuction options in Cleveland, please call our team at The Cosmetic Surgery Center at (216) 264-8100.
Below is an example of our typical results: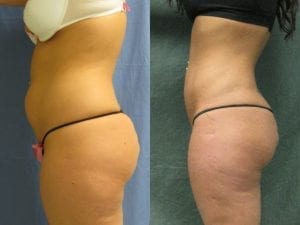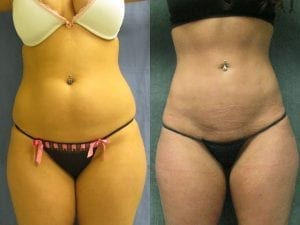 To see more results, visit our before and after gallery