Although liposuction techniques have resulted in a less invasive procedure over the years, liposuction–like any surgery–has certain risks. And like any other surgery, it is not a good choice for people with certain health conditions.
According to the American Society of Plastic Surgeons, an ideal liposuction candidate is an adult who:
Is within 30% of ideal body weight;
Has firm, elastic skin and good muscle tone;
Is currently in good health, with no life-threatening illnesses or medical conditions that might impair healing;
Doesn't smoke;
Has specific body-contouring goals to discuss with the surgeon; and
Has a positive outlook toward body reshaping.
Often, liposuction candidates are individuals who have excess fat deposits that have stayed relatively constant despite attempts to change diet and exercise. Because where and how the human body stores fat is strongly affected by genetics, diet and exercise are not always enough to change how your body stores fat in specific areas. Liposuction can remove fat cells from these areas, changing their shape.
Do You Meet These Criteria? Here's What Else You Need to Know
Even if you meet the criteria listed above, there are other factors to consider–and discuss with a surgeon–when deciding if liposuction is the right choice for you.
First, remember that liposuction only removes fat cells that are near the skin's surface. While the procedure can be an excellent tool for reshaping particular body areas, it is not indicated as a method to lower overall body weight or to treat obesity. Obesity, in particular, involves "visceral" fat, or fat cells around body organs, that are not affected by liposuction, so the procedure will not address visceral fat.
Also, while liposuction removes fat cells, it does not remove skin cells. As a result, typically, patients are most satisfied with liposuction performed on areas of the body with good skin elasticity. The skin's elastic quality allows it to "bounce back," rather than sag, once underlying fat cells are removed.
For a free, private consultation about your liposuction options in Cleveland, please call our team at The Cosmetic Surgery Center at (216) 264-8100.
Below is an example of some of our typical results: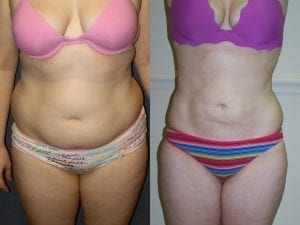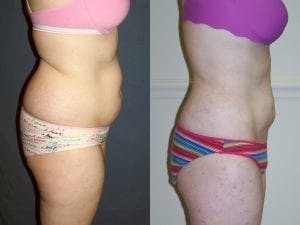 To see more images, please visit our Before and After Gallery.