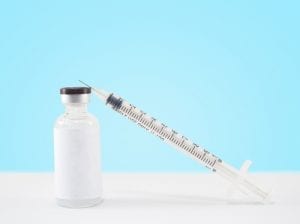 When looking to reverse the effects of aging by rejuvenating the face, many patients often turn to BOTOX® Cosmetic or dermal fillers for their desired needs. Considering which product to choose can be difficult since they both offer effective results that treat unwanted wrinkles and other signs of aging.
While both non-surgical products offer endless possibilities to help improve your facial appearance, it is also important to understand BOTOX® Cosmetic and dermal fillers are each used to help safely treat separate conditions.
Knowing the Difference
One of the primary differences between BOTOX® Cosmetic and dermal fillers is the manner in which they seek to restore a youthful appearance.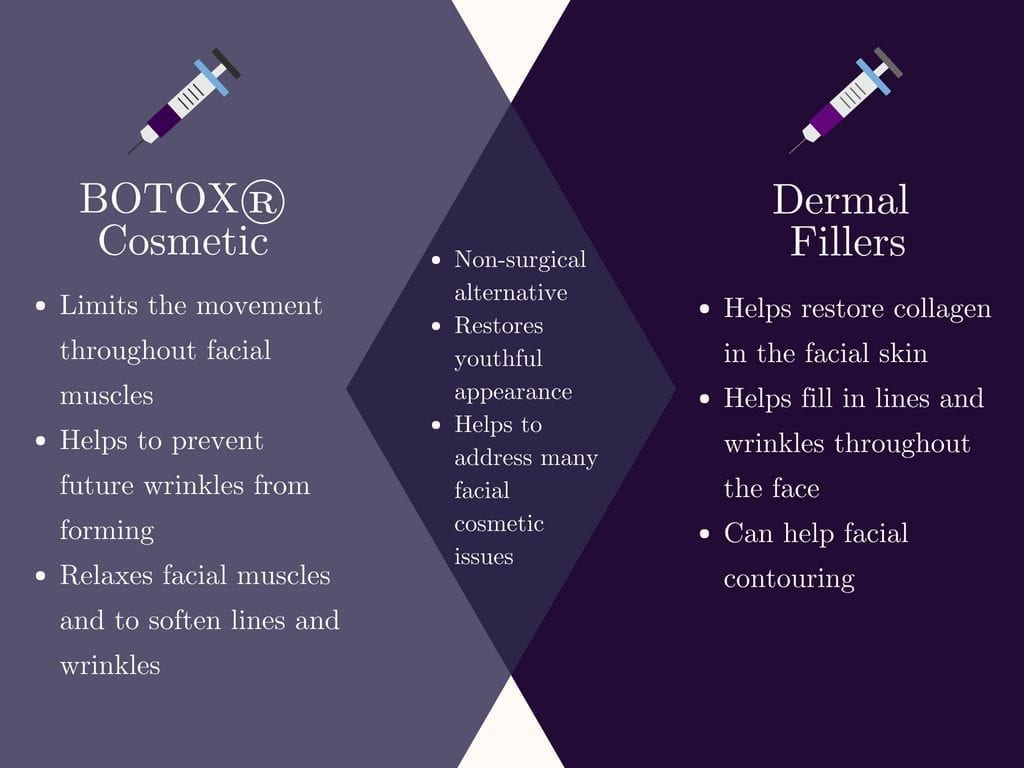 BOTOX® Cosmetic relaxes facial muscles to soften lines and wrinkles. Dermal fillers, on the other hand, help restore lost collagen in the skin, which helps to create a more full, healthy appearance. BOTOX® Cosmetic can also help erase both static and dynamic lines on the face, whereas dermal fillers use a gel-like substance to fill in the wrinkles.
How can BOTOX® Cosmetic benefit you?
BOTOX® Cosmetic has the advantage of targeting the dynamic lines that are often unphased by other surgical cosmetic procedures. BOTOX® Cosmetic can also quickly and efficiently reduce unwanted lines and wrinkles while also treating blepharospasms, strabismus, and muscle dystonias. Because this product does not require cosmetic surgery, patients who prefer to avoid any necessary recovery time usually turn to BOTOX® Cosmetic for their needs.
How does it work?
A small amount of BOTOX® Cosmetic will be injected into your skin by a board-certified cosmetic surgeon to ensure the treatment is performed correctly and safely. Once injected, the muscles around your face will begin to relax preventing any more wrinkles and fine lines from appearing. One week following the procedure you will start to notice your facial appearance improving. These effects typically last up to four months. If the effects of your BOTOX® Cosmetic begin to diminish, you are welcome to undergo another treatment.
How can dermal fillers benefit you?
Dermal fillers, or facial fillers, are considered one of the most popular options for patients wishing to reduce the appearance of wrinkles and fine lines. From reducing signs of aging to facial contouring, dermal fillers can help enhance your face without the need for major surgery. There are many different fillers you can choose from, such as:
JUVÉDERM®
Restylane®
Sculptra® Aesthetic
RADIESSE®
How does it work?
Patients can choose between a synthetic or natural filler for their treatment. When injected under the skin, the solution found in dermal fillers will fill the soft tissue and cause the skin to rise or puff up. Puffiness is temporary and will usually go away over time. The number of injections you wish to receive, as well as the depth of insertion, may depend based on the type of filler you choose. You can see the difference immediately, although final results are seen two weeks after the treatment.
Any questions or concerns regarding BOTOX® Cosmetic or dermal fillers can be addressed at The Cosmetic Surgery Center. Please call us at 216-350-3175.