Understanding Breast Augmentation With Lift

A breast lift with implants corrects breast ptosis (sagging) while also maintaining breast volume and shape. The two procedures complement each other well because the breast implants can be placed through the breast lift incisions. Also, the implants prevent the patient from seeing too much volume loss from a lift. Breast lift surgery aims to remove extra skin and tissue from the breasts that are contributing to sagging, It also frequently repositions the nipple higher on the breast to maintain a natural result. This is not always necessary for small lifts and there are multiple ways to reposition the nipple. When adding breast implants, the breast size and shape can remain the same size. For patients who need more skin removal, adding implants allows them to maintain the fullness they had before the lift.
Plastic surgeons evaluate breast sagging on a scale to determine the severity. This helps to determine the right type of breast lift needed to achieve the ideal breast shape again. A "normal" or youthful breast shape will include the nipple and areola pointing forward at a ninety-degree angle from the chest wall.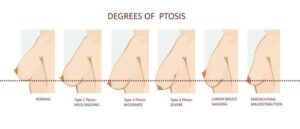 The degrees of breast ptosis are:
Grade One: Mild ptosis where the nipple points forward, but at a downward angle. This degree of breast sagging may or may not necessitate a breast lift. If a breast lift is performed, it is minimal.
Grade Two: Moderate ptosis where the breast begins to droop downward and the nipple drops fully below the inframammary fold. A mastopexy is often indicated and augmentation can be performed if desired.
Grade Three: Severe ptosis where the nipple and much of the breast contour is below the inframammary fold. Breast lift surgery is the only way to correct Grade III sagging. Many patients with this degree of sagging require significant breast skin and tissue removal. They may choose to place implants to counteract this, but it is not required for a good result.
Pseudoptosis: A breast that may look like it is sagging, but the nipple remains above the inframammary fold. Often the lower breast sags versus the entire breast. In some cases of pseudoptosis, breast implants alone can correct it. In especially severe cases, a breast lift may be performed.
Parenchymal Maldistribution: This condition is similar to tubular breasts, but indicates that the lower portion of the breast did not fully develop. This can leave a patient with an abnormally high inframammary fold which gives the appearance of sagging. A breast lift with augmentation is often ideal for these patients.
Cleveland breast augmentation with lift surgery comes with many possible benefits for patients seeking breast enhancement. Some of the benefits include:
Correct breast sagging
Address breast volume loss due to age and pregnancy
Reposition the nipple above the inframammary fold
Achieve larger breasts
Create perkier breasts
Enhance overall body contours
Reduce nipple size (if desired or necessary)
Correct inverted nipples
Provide a younger breast contour
Reduces recovery time by combining surgeries
Results complement each other
Performed by an experienced cosmetic breast surgeon
Before & After Breast Augmentation With Lift Cleveland
Before undergoing a breast lift with augmentation in Cleveland, the patient will meet with Dr. Goldschmidt for a consultation. At this appointment, he will ask about their goals for surgery and what concerns them most about their breasts. Dr. Goldschmidt will evaluate the intake paperwork and ask questions about their medical history and lifestyle. Finally, he will conduct a brief examination to determine the degree of breast sagging, skin quality, and other anatomical attributes.
If Dr. Goldschmidt determines the patient is a good breast augmentation with lift candidate, he will provide insight into the results to expect and describe the procedure. From there, the patient can pick out breast implants and will receive a customized price quote for their Cleveland breast augmentation with lift surgery.
Breast Lift With Augmentation Surgery Cleveland
When performing breast augmentation with lift, Dr. Goldschmidt usually starts with the breast lift. For most, this includes an anchor-shaped incision that spans around the nipple, down the breast, and through the inframammary fold. Through this incision, he will remove unnecessary skin and tissue.
Depending on the specifics of the procedure, he will simply move the nipple with its blood supply higher onto the breasts. In other cases, a surgical technique known as a free nipple graft involves removing the nipple and replacing it on the breast. This is not always preferred for all patients, but it is a technique you can discuss with Dr. Goldschmidt because it can improve results sometimes.
Recovery from a breast augmentation with lift Cleveland is similar to other breast surgeries. Compared to breast augmentation alone, it is slightly longer and more uncomfortable. However, patients tend to do well and can return to work in roughly one to two weeks depending on their healing. Strenuous exercise and weight lifting will need to wait up to eight weeks. Light cardio can often begin after two to three weeks.
Patients may take prescription pain medication though many find there is not a major need for it after a few days. They will wear a surgical bra to reduce swelling and improve overall comfort during recovery.
Frequently Asked Questions About Breast Surgery
Does Breast Augmentation With Lift Cleveland Require Drains?
No, a breast augmentation with lift usually does not require drains. In rare cases where an especially large lift is performed, drains sometimes become required. Patients with certain medical histories may also need drains. Most breast lift with augmentation patients do not have drains during their recovery.
Is Breastfeeding Possible After Breast Augmentation With Lift?
Unlike breast augmentation where breastfeeding is possible after surgery, a breast lift usually interrupts the structures responsible for breastfeeding. Thus, women who undergo a breast lift or procedure including a lift normally cannot breastfeed afterward. This is another reason why it is highly recommended that a patient not have more children after a breast lift.
What Does A Breast Augmentation With Lift Cleveland Cost?
The cost of a breast augmentation with lift in Cleveland depends on several factors such as breast implant selection and the extent of the breast lift. Patients will receive a customized price quote at their consultation.
The Best Breast Augmentation With Lift In Cleveland By Dr. Matt Goldschmidt
Dr. Matt Goldschmidt is a double board certified surgeon with two decades of experience in cosmetic surgery, including hundreds of breast surgeries. He wrote and published a book for patients and their loved ones about what to expect before, during, and after a breast augmentation surgery. Dr. Goldschmidt is Cleveland's cosmetic breast surgery expert. He provides the best breast augmentation with lift Cleveland offers.
For more information about Breast Augmentation With Lift in Cleveland & Columbus, Ohio or to schedule your Breast Augmentation With Lift in Cleveland & Columbus, Ohio consultation with Dr. Matt Goldschmidt, please call (216) 350-3175.